Some of you may have noticed I added a subtle "Register to Vote" button in the lower right-hand corner of my blog. That will remain there until October 14th – the deadline for voter registration. It is beyond important that you vote in this election. While none of us are particularly enthusiastic about the choices given to us (and chosen by some of you), it is still our civic duty. One of the only things that we are actually obligated to do as Americans.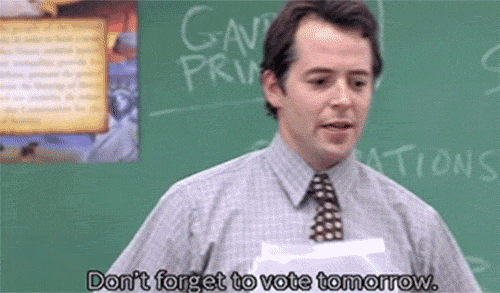 Voting is a responsibility and you should vote in a manner that you believe best represents where you desire our country to go and how you want our country to be represented on an international scale. It's more important to me that you vote rather than how you vote. But, please, for the love of all that is good and holy, educate yourselves first. Here is a pretty cut-and-dried, simplified version of each candidate's policies and views.
I dislike both of the main party candidates this election cycle. It appears as if America has gotten so addicted to reality television that we chose two people who, shockingly, are the most worthy of delivering us with reality tv-style drama, straight from the White House, for the next four years. The debates themselves are actually better entertainment than any reality TV show I've ever watched and the candidates sling more insults at each other (and other people) than Gordon Ramsay in Hell's Kitchen. The dignity and sanctity of the position of POTUS, that the previous 43 presidents tried so hard to either restore or retain during their time in office, has been disgraced by the "best" America has to offer.
I've never been so unenthused to witness a historical moment. I've debated politics with people from all over the world – part of being an American is that everyone wants to talk guns and American conservatism – and it was more pleasant than participating in this electoral year.  But I will vote. Regardless of how dismal I feel the result to be, I will vote.
If you're in North Carolina, you have to send in your registration (postmarked by the 14th), because we like to pretend we live in the 1800's and make it as difficult as possible for others to exercise their constitutional rights. If you're pretty much anywhere else in the US, you can register online. If you're a US citizen abroad, follow the rules for an absentee ballot (Google it). Just do it. Before Friday.
May the odds be ever in our favor.
XoXx, Fernweh
Edit: I did my duty.